In the five years of running an inbound marketing agency, I've been afforded a close up view of what works and what doesn't. At this point, I'm prepared to answer the tough question often posed to me in one of the following forms:
"How do I get results from Hubspot?"
"What is the Hubspot ROI?"
"How long does it take to see results?"
What is Hubspot pricing?
Inevitably, these are the questions posed by those who are looking to undertake inbound marketing, but also I find those who've already taken the plunge and are wondering how to improve their results.
Inbound marketing is a strategy that broadly describes a range of tactics leveraging inbound marketing tools such as SEO, social media, lead nurturing, buyer persona creation and content creation to name just a few. But, as I've learned, there's really one thing at the heart of inbound marketing that drives success and positive ROI. But first, I'm going to digress for a moment and take a quick look at some of these tactics that get a lot of "air play" yet are really just components of the most important tactic:
Search Engine Optimization (SEO): Very hard to keep up Google's algorithm changes
Social Media: The great the unknown in B2B marketing
Lead Nurturing: Works when you've actually got leads to nurture
Buyer personas: The fact that "Marketing Sue" drinks Chai Latte and has a Twitter account is not going to move the needle
The not so hidden secret
The best way to describe the most important element of inbound marketing is to look at a typical client. We'll use a client we've worked with since late 2012: A regional logistics company that provides trucking, warehousing and fulfillment services. Nothing sexy, but a business with a solid reputation and over $50MM in sales.
What we did:
Designed and built a new site on the Hubspot CMS (eventually migrated to the COS
Optimized all pages for SEO
Committed to a content plan that included 4 blog posts per month (90 total) and top of the funnel downloads or "primers" (20 total)
Built a sales funnel for each targeted business segment
Keyword rankings: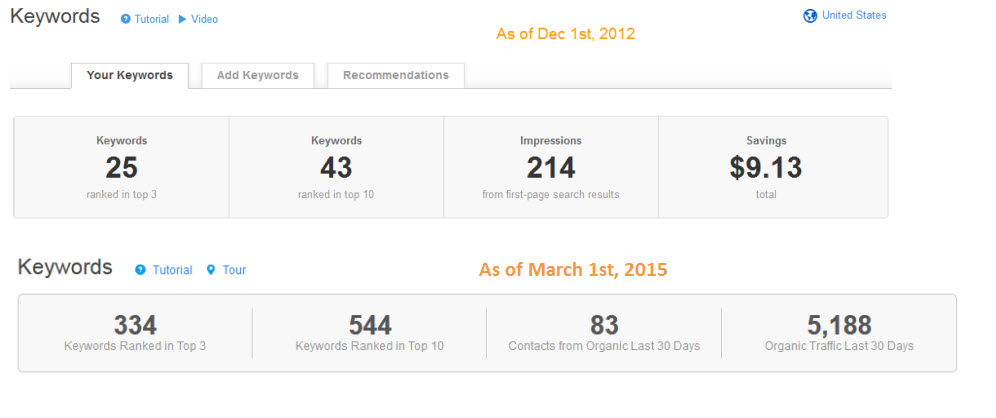 Organic traffic grew over 250%:
2014 Results:
Information Qualified Leads: 1,221
Marketing Qualified Leads: 239
Sales Qualified Leads: 59
Contact Us Leads: 848
Revenue from inbound marketing in 2014: $2.4MM
Spend on Inbound Marketing in 2014: $60,000
How did this happen?
The single most important element for this client was committing to a content plan and sticking to it. A systematic blogging strategy is at the core of any successful inbound marketing effort. However, these results did not happen overnight. As you can see, it took some time for the content strategy to pay off.
Now, let's look at the other tactics I mentioned earlier as they relate to blogging:
SEO is used to create blog titles, meta descriptions, images with Alt Text and keywords in body content
Buyer personas are taken into account when blogging
Lead nurturing happens when you have a call to action at the end of each blog post
Social sharing occurs when you publish posts to Twitter, FB and Linkedin and your posts get shared by readers – that also influences your SEO
My absolute favorite Hubspot statistic:
So, if you want guaranteed ROI from your inbound marketing, it all begins with blogging and patience.